This fabulous Rail & Trail Fundraiser Festival features a round trip train ride through the redwoods to a party at Roaring Camp. The afternoon party features live string band music, raffle prizes, games, and a delicious picnic lunch. Lunch includes a craft beverage from a local sponsoring brewery or winery and unlimited soft drinks.
Roaring Camp and Legend Theatrical presents the 3rd Annual Brewgrass Festival featuring music from bluegrass artists, Yonder Mountain String Band, Hot Buttered Rum, Wolf Jett, Water Tower, The Goat Hill Girls, The False Bottom Band, Rattle Can, and more! Enjoy brews from local breweries and food from popular local food trucks.⁠
⁠
Back this year- VIP Brewgrass Tasting Train roundtrip from Santa Cruz to Roaring Camp.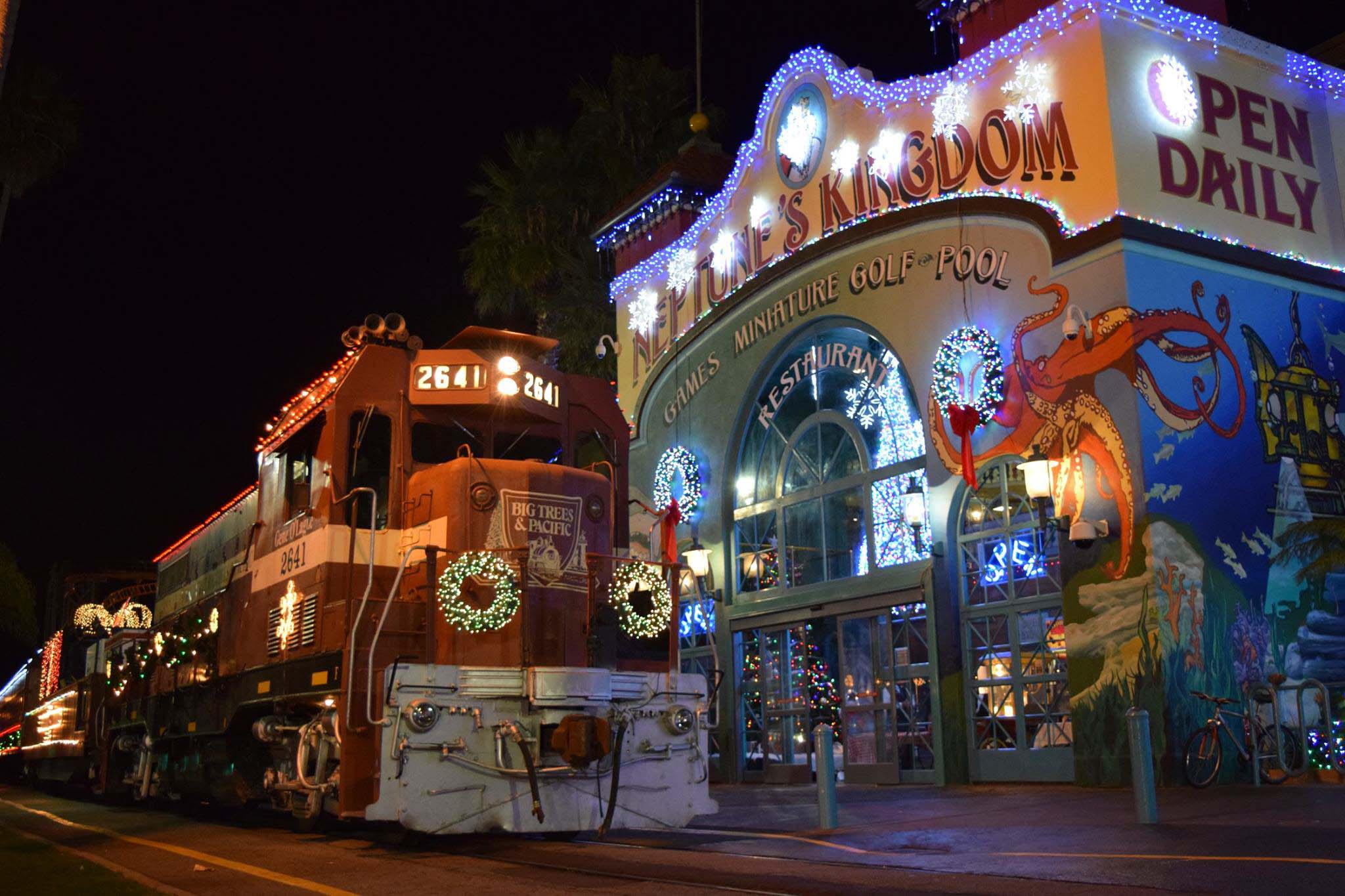 A seasonal tradition returns to Santa Cruz with the Santa Cruz Holiday Lights Train. Vintage excursion cars, adorned with thousands of colorful lights, roll through city streets past homes of Santa Cruz.
We'll share in Chanukah traditions and ride the train through the streets of Santa Cruz listening to Chanukah stories, playing dreidel and enjoying kosher refreshments provided by Chabad by the Sea.
The Easter Bunny makes a stop at Roaring Camp. Hop aboard the Redwood Forest Steam Train to Bear Mountain for an Easter Egg Hunt and participate in Easter activities in Town.
This Memorial Day, take the Redwood Forest Steam Train up to Bear Mountain and return. Join us in the Town of Roaring Camp for family-friendly activities.
Take a trip from the Santa Cruz Beach Boardwalk to Roaring Camp Railroads on the Father's Day Brew Train! Local brewers from Humble Sea will be pouring tastes of some of their favorite beers as you ride the rails from the seas to the trees. Listen to live music on board as we make our way to Roaring Camp. Once you arrive at Roaring Camp join in on the festivities with more live music, gold panning, great bbq lunch and beer available for purchase.
This 4th of July, take either the Redwood Forest Steam Train or the Santa Cruz Beach Train. Join us in the Town of Roaring Camp for family-friendly activities and live music.
The International Musical Association presents Musical Saw Festival. Join us at Roaring Camp's Brett Harte Hall for a musical saw contest, featuring master saw players and a musical saw workshop. Admission is free!
Evening train and dinner excursion from the beach to the redwoods. Upon arrival, a delicious barbecue dinner and live music awaits you.